With Stocks Down, Product
Pushing Salesmen Smell Blood
With the stock market starting out the year down 6%, the commission-hungry "advisors" who sell alternative investments like annuities, life insurance, non-traded REITs, gold, alarmist literature and other oddball garbage are now working overtime to sell you their expensive, high-commission products. They know that the uneducated public is vulnerable.
The basis for selling ALL of these inferior products products is to completely ignore diversification into bonds.
Step one before you invest is to decide how much risk you want to take. If you are panicking now, then the stock market is not your problem. The problem is that you didn't allocate enough into bonds, which are slow, boring and consistent. When you own both stocks and bonds together, bonds smooth out stock volatility. As the old addage goes, when stocks fall, money runs to the safety of bonds and vice versa.
With history as our guide, lets take a look at the performance history of a mix of 28% stocks and 72% 10-year treasury bonds. Pay particular attention to 2000 to 2003 and 2008 to 2009. Not one year did you even lose 1%. Don't expect Mr. Product Pusing Salesman to educate you about bond / stock diversification. Education about diversification is bad for his business.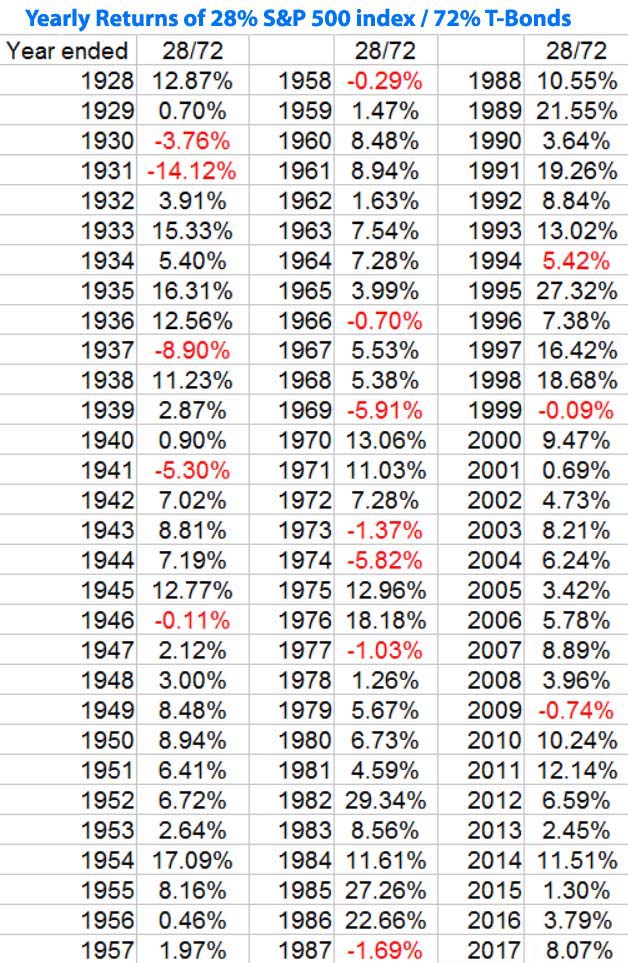 And there's no cherry picking allocation ratios here. From 1970 to 2010 the lowest rick bond/ stock allocation, according to Ibbotson, was 28/72.